Goal: Increasing access to safe and respectful gynaecological care in Nigeria
Duration: 1 year programme
Partner: University of Abuja Teaching Hospital
Funder: Fundraised for by challenge events
Background
Cervical cancer is the third most common cancer worldwide, and 80% of cases occur in the developing world. It is the leading cause of death from cancer among women in developing countries, where it causes about 190,000 deaths each year (Sherris et. al, 2001). The burden of gynaecological disease in Sub Saharan Africa is considerable, yet it is rarely addressed despite having a significant impact on women's wellbeing, economic productivity and quality of life.
That's why the RCOG is working with partners in Nigeria to increase access for women and girls to safe and respectful gynaecological care. Often, women in low income settings will present late on with conditions such as fistula, abnormal uterine bleeding and post-abortion complications, by supporting staff to recognise signs and symptoms and to initiate interventions or make referrals. We want to ensure that when women do reach healthcare facilities, they have the best chance of a positive outcome.
The RCOG supports task shifting, and delivers training to nurses, midwives and medical officers. We are helping to build capacity among front line healthcare workers, to support women in the areas of family planning, prolapse, cervical cancer, STIs, HIV, gender based violence and more.
Outcomes
78 health care workers trained across 6 hospitals
General positive attitudinal change towards women's rights to respectful care
Data generated about a new style of training and its potential to scale up
11 modules developed to train health care providers on essential gynaecological skills to care for women and girls across their life course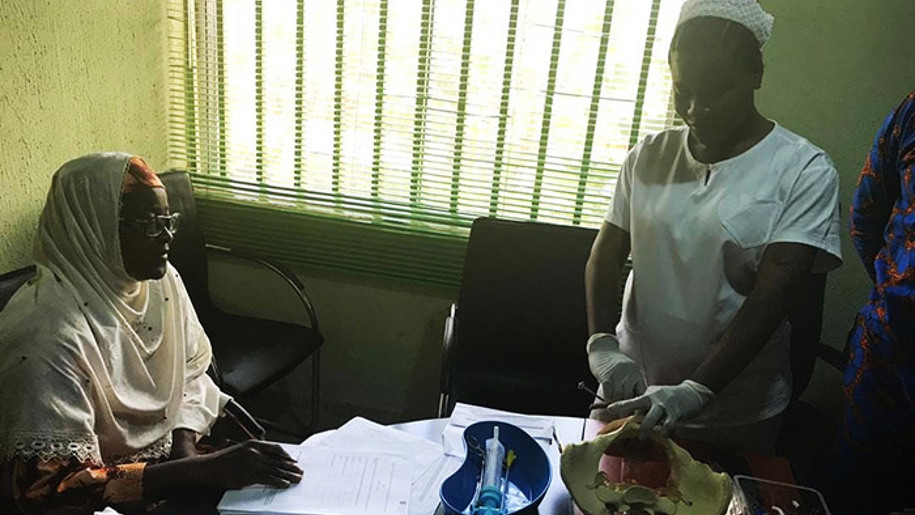 Programme
The RCOG has partnered with the University of Abuja Teaching Hospital to train health care providers from around Abuja in 11 essential gynaecological skills. We have trained more than 70 healthcare workers and we estimate that thousands of women from Abuja and the surrounding districts will benefit from the programme.


As part of ensuring the sustainability of skills sharing, we have trained several of the participants in teaching skills to equip them with the confidence and ability to support and guide their colleagues.


The healthcare workers that have been trained in the essential gynaecology skills programme have shown improvements in their understanding of many key areas covered in the training and have also reported changes they are making in their practice as a result.
"The Early Warning Score system helps us to identify patients who are becoming very unwell. I work in the post-natal unit and if I go through their vitals, it helps me to work out who to attend to first."Before, we did random checks on every patient, now I know how often to check each one. I had a post-operative patient who had a dangerous score and I noticed swelling in her stomach so I called the doctor. The doctor identified internal bleeding and rushed her to theatre and saved her life.
"I have taught everyone on my unit how to use the early warning score system. They were happy because before you just used your head to decide who to see when but now you KNOW who needs more help than others. It's helping our patients. It's more accurate."
Jane, Nurse – Abaji District Hospital, Abuja
The course was originally piloted in 2016 in Sri Lanka, Nigeria and Bangladesh to ensure its suitability for use in low resource settings and for supporting task shifting. This larger programme in Nigeria is reaching a wider group of participants and incorporates a significant monitoring and evaluation component to help us make sure the training is as impactful as possible.
Following this evaluation stage, we can continue to support more women getting access to safe and respectful care across their lifetime.