The RCOG's royal history, from early 20th century to today
20th Century: Crown land and first Royal Patron
The College was granted a "royal" title by His Majesty King George VI in 1938 and the Royal Charter was awarded in 1947, after delay caused by the Second World War.
Initially, the College was housed at 58 Queen Anne Street but, when more space was required, a Crown land site was obtained in Regent's Park – our then home at Sussex Place.
The foundation stone of the new building was laid in 1957 by Her Majesty Queen Elizabeth The Queen Mother, who was then Patron of the College.
The new College building was completed in 1960 and formally opened by Her Majesty The Queen in July of that year. In 2001 the subterranean Education Centre was opened, providing the College with a 21st century conference facility.
In late 2019, the RCOG moved to a new building in London Bridge which will safeguard and enhance the College for future generations.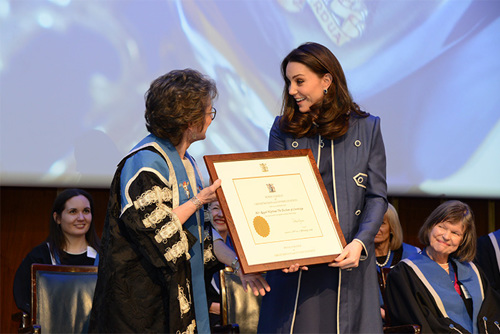 2018: The RCOG welcomes a new Royal Patron
In Feburary 2018, the Royal College of Obstetricians and Gynaecologists welcomed Her Royal Highness The Duchess of Cambridge as its new Patron.
Her Royal Highness attended a special ceremony at the College to officially accept the patronage. The Duchess is only the second Patron in the RCOG's history, after Queen Elizabeth The Queen Mother in 1947.